Where in Thailand you can rent a scooter: useful recommendations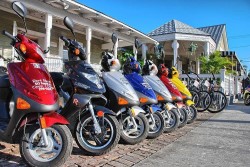 Resting in Thailand, you can rent a scooter on favorable terms. To do this, you need to contact the Green Way company, leaving the appropriate application on the site.
Rent a scooter at Green Way is available at an affordable price. However, this solution has many advantages.
Pros
The advantages of renting a scooter in Thailand include the following factors:
Affordable service cost. You can rent a scooter relatively cheaply: from 150 baht per day.
The scooter is delivered to the specified address, for example, to the hotel. Therefore, the customer does not have to go anywhere to pick up the rented vehicle.
All scooters must be insured.
The company owns an extensive fleet of scooters, so each customer will be able to choose a model to their liking.
Traveling on a scooter is very convenient. You can visit hard-to-reach places where you can not drive a car. The problem of traffic jams is completely eliminated, thanks to the compactness and maneuverability of the scooter. You can park a scooter, unlike a car, in any place convenient for this.
All scooters offered to customers are in excellent condition and are regularly inspected. You can not be afraid that the rented scooter will let you down at the most inopportune moment.
Registration of rent
The process of renting a scooter is as follows:
On the company's website, the customer selects a suitable scooter and books it, leaving a corresponding request. The manager of the company calls back at the phone number specified in the application to coordinate all the details with the customer. After that, the client makes an advance payment and the selected scooter is booked for the specified period.
The scooter is carefully prepared for handover to the client. To do this, it is washed and subjected to technical inspection. During the inspection, specialists pay special attention to the level of tire pressure and the health of the brake system. After all, driver safety depends on it.
At the time chosen by the client, the scooter with helmets in the kit is delivered exactly to the place indicated in the application. In the presence of the client, the damage that the vehicle has is recorded on video. After that, the client signs a contract with the company and pays the rest of the rental amount.
When there is one day left before the end of the rental, the employee will find out by phone at what place it would be convenient for the renter to return the scooter. At the appointed time, the specialist picks up the scooter, returning the deposit to the client.